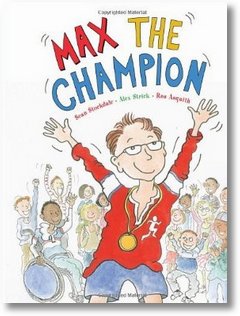 Max is a small boy mad about sport, and every day Max imagines that he is the most successful sports person,taking parts in all sorts of exciting sports.
In his world, he dives into an Olympic swimming pool, he takes the lead in the bob sleigh and he scores a winning goal in an amazing football team.
His friends are there in his dreams too, and in the illustrations, which speak as much as the words, you can find many aspects of disability and inclusion. Look carefully and you will find a hearing aid and an oxygen tube, and more…
What a wealth of opportunity for all children and a book that will go down really well in the classroom as teachers can use both as a good story book and also as a real resource for inclusion and disabilities as part of everyday life.
Max the Champion, written by Sean Stockdale and Alexandra Strick and illustrated by Ros Asquith and published by Frances Lincoln. As publishers, they are amazing at delivering books that are both great reads and meet the needs of our diverse and rich culture.
You can buy this book through Dolphin Booksellers today.
Sue Martin
Dolphin Booksellers – the best in children's books – always on line.