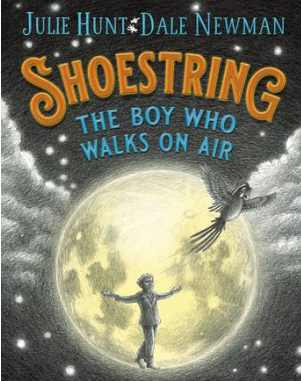 A gripping illustrated adventure about a travelling circus troupe, a future-telling macaw and a cursed pair of gloves that Shoestring must conquer once and for all. A companion to the award-winning KidGlovz.

Twelve-year-old Shoestring is leaving behind his life of crime and starting a new career with the Troupe of Marvels. Their lead performer, he has an invisible tightrope and an act to die for. But trouble is brewing – the magical gloves that caused so much turmoil for KidGlovz are back.
When he's wearing the gloves, the world is at Shoestring's fingertips. It's so easy to help himself to whatever he likes – even other people's hopes and dreams. But when he steals his best friend's mind, he's at risk of losing all he values most.
Julie Hunt is the author to this amazingly intriguing and, like nothing else you will ever read book! It is a compelling sequel to KidGlovz, winner of the 2016 Queensland Literary Award and named as one of Booktrust UK's 100 best books for middle readers.
Dale Newman has captured the imagery of Shoestring perfectly and she
has been engaged in creative life for many years.and now works as a freelance illustrator. KidGlovz was her very first-ever epic graphic novel. Dale lives on the New South Wales coast of Australia with her partner and son, who kindly agreed to model for the book. Her artwork also appears on the cover of Julie's award-winning novel Song for a Scarlet.
Allen and Unwin are the publishers,they have created wonderful materials to go with this book. You can download a free set of Teacher's Resources to go with Shoestring which will create some excellent writing skills.
Every so often a book lands on my desk in Cambridge, UK which grabs me! After ten minutes on the sofa, Shoestring is coming home with me to read tonight. Definitely one to read.
Sue Martin