The School Librarian of the Year Award is the SLA's prestigious honour to recognise the excellent work that is carried out in school libraries every day, and to highlight the current practice of those whose work is outstanding.
The School Librarian of the Year Award was proposed in 2003 by Aidan Chambers, who was the President of the School Library Association at that time. It was intended to be an award for excellent practice and to be given annually 'in recognition of outstanding and exemplary work by a school librarian… whose work may be within the conventional bounds of library and information resource centres or be in unconventional areas.' (Aidan Chambers' initial proposal, October 2003)
In 2021 the awards were announced at a virtual event on Friday 11th June.
And the School Librarian of the Year for 2020/21 is Kristabelle Williams from Addey and Stanhope School, Lewisham, London.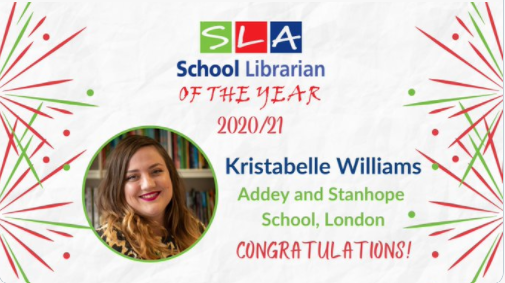 Kristabelle is the librarian in Addey & Stanhope state secondary school, and has an unremitting and consistent focus on ensuring the best futures for her students, making reading, researching and library use the norm. There are weekly KS3 library classes and book clubs – focusing on RfP, book talks and information skills, activities including discussions, debates, Book Pen Pals, Kahoot quizzes, Padlet activities and Ms Williams' popular mash up of Taboo and Heads Up called "Books Up".
By working with teaching departments and with student groups, booklists related to the curriculum, and empathy, inclusion and social justice are promoted across the school. Kristabelle has been instrumental in celebrating how reading for pleasure and mental health/well-being are intertwined, never stopping adapting and innovating to engage and encourage students.
There was a very strong list of candidates on the Honour List and the SLA CEO Alison Tarrant praised the librarians for their dedication in this most unusual of years 2020/21. Librarians have been key in the renewed focus of importance and power of reading (for pleasure, learning and wellbeing) and information literacy skills, as this generation will rely on these to determine the truth from scare mongering, and educational website from fake news.
Delighted to support School Library Association, they make such a difference!
Sue Martin