An outstanding book about people first and how they have carved out their lives and thoughts against a number of odds and issues which could so easily have prevented them from living their lives. Society does like to label! This is a book which clearly shows that we just should not do that!!
---

In this stylishly illustrated biography anthology, meet 30 artists, thinkers, athletes, and activists with disabilities, from past and present. From Frida Kahlo to Stephen Hawking, find out how these iconic figures have overcome obstacles, owned their differences, and paved the way for others by making their bodies and minds work for them.

These short biographies tell the stories of people who have faced unique challenges that have not stopped them from becoming trailblazers, innovators, advocates, and makers. Each person is a leading figure in their field, be it sports, science, math, art, breakdancing, or the world of pop.

Read about Ludwig van Beethoven, Gustav Kirchoff, Henri Matisse, Eliza Suggs, Helen Keller, Frida Kahlo, John Nash, Stephen Hawking, Temple Grandin, Stevie Wonder, Nabil Shaban, Terry Fox, Jonas Jacobsson, Trischa Zorn, Ade Adepitan, and many others.
Cerrie Burnell is an actress, singer, playwright, author, and former television presenter for CBeebies (2009–2017). She was born with half a right arm and has sought to increase visibility of disabled people through her career in presenting, writing, and acting.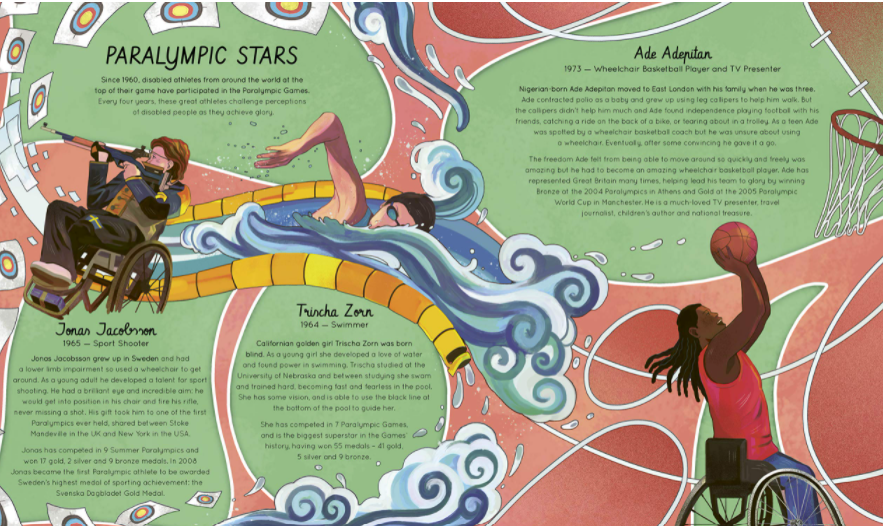 Lauren Baldo is an illustrator based in the Philippines. He has worked as a storyboard artist, comic artist, graphic designer, and children's book illustrator.
Publishers are Wide Eyed Editions, part of Quarto Knows. An amazing gift for excellent books which highlight research, people and subjects in a format which is modern and attractive. Just a great way to read and extend your knowledge.
Sue Martin