Protect Freshwater to Save Our Earth
By Catherine Barr & illustrated by Christiane Engel
A ground-breaking global introduction to water that includes sharing and protecting freshwater worldwide, Water is life! Freshwater bubbles, flows and floods with the most wonderful life on Earth – and all of us rely on it to stay alive. BUT today, because of pollution and climate change, it is becoming more and more difficult for people and animals to find the clean freshwater they need to survive. It's time to act!

Water tells the story of freshwater around the world. Discover the history of water, how the water cycle works, learn about the different kinds of water and about the amazing variety of wildlife that freshwater is home to. Then find out what happens to water because of climate change and global heating; the importance of clean water for health; the worldwide problem of water pollution and the devastating impact of water shortage on children's lives and education.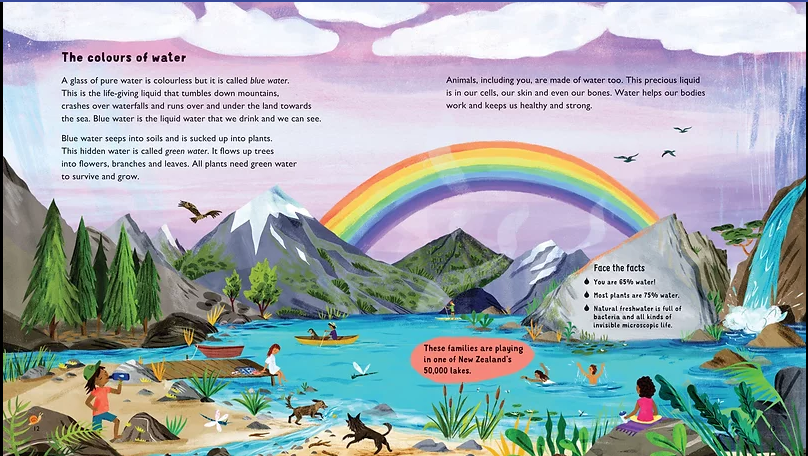 Catherine Barr challenges us to take action, to use water wisely and protect freshwater to save our planet. Catherine's many books are witness to her skill in presenting information to children in a visual and bite sized text within the illustrations . From my experience in working within schools, this book is highly engaging and can be used as part of many areas of the curriculum to bring new knowledge to children. Each page has a Face the Facts section to enable quick and speedy access to information.
Chrsitiane Engel, the illustrator has a wonderful style which will enable talking points on every page.
Otter-Barry Books have published this remarkable hardback edition into their new books for March 2022, and the quality of production and care to every detail will make it a great success.
Sue Martin Children's Literacy Specialist